2006-04-08 - 8:04 p.m.
Ha! The cord was under the couch!
Only a few hours of work on the porch today, but much done.
Here's our new brick wall: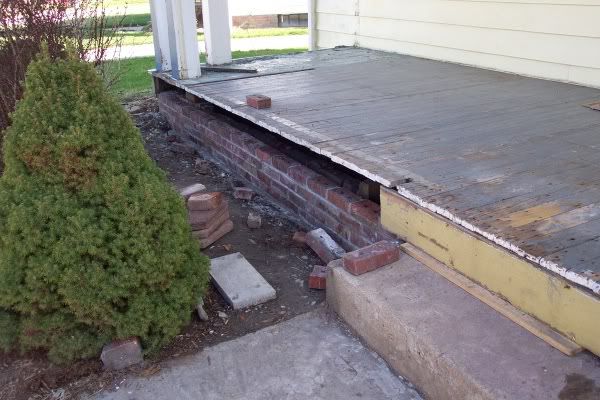 Here's the scariest part of the whole project....the amazing columns held up by AIR:
Actually, there's a beam that spans the porch and is right under the back pillar, so we're thinking that's doing most of the work. However, the 30 bucks spent on those two jacks was money well spent.
Here's the exciting part! The shiny and sturdy new beam goes in!!
And the porch is supported across the front once again!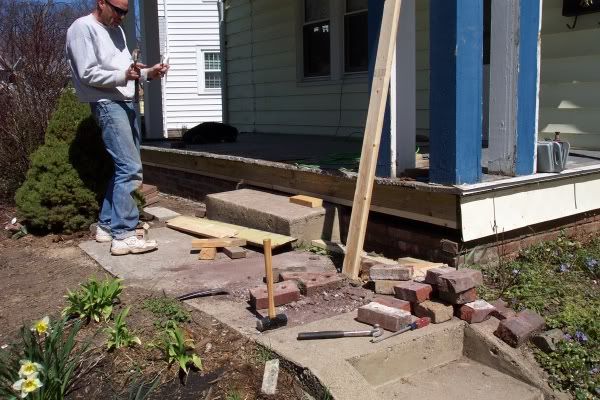 Getting close to choosing colors. Kind of a sagey green for the pillars, with a terra cotta accent color. I think I want to paint the front door the reddish color.
Was going to make really good dinner....beef bourgionion (sp), but I fell asleep, and didn't wake up until 7:30--at which point it would be 9:30 before we ate. So I sent Steve for a bottle of wine (since we can't buy it on Sunday) and I will make it tomorrow.
We w ere supposed to go to a student appreciation thing at our dance studio tonight, but because of how sick I've been, there's no way. Our instructor called, and I feel kind of bad. We sort of suck...we only go to lessons, and not to dances. Which is stupid, I know. But the regular dances are on Friday nights, and by the time we get home Friday night, we can barely construct complete sentences, let alone get dressed up and go dancing.
1 comments so far