2006-04-10 - 11:43 a.m.
Excuses or reasons?
More porching yesterday. I made husband take the ugly ass aluminum off the fascia/soffet, and here's what we found: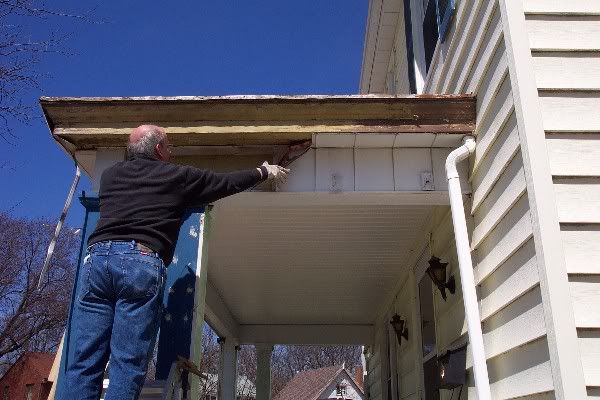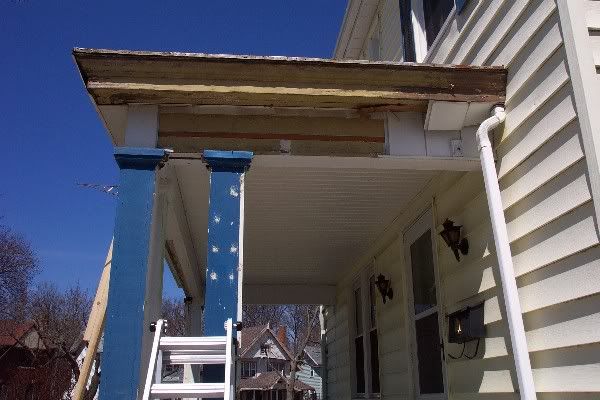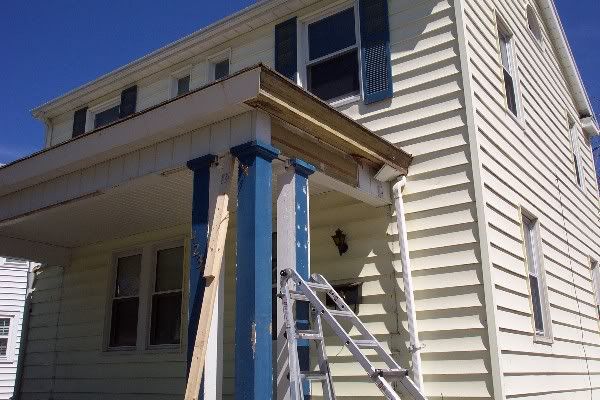 Our concern was that everything under the aluminum would be rotten, hence the reason for the aluminum. Nope. It looks like it was just a matter of a homeowner not wanting to bother the painting and other mantenence required. This side seems pretty solid, so yay. Looks like the house was originally baby poop yellow.
Husband, mr doom and gloom, said "You DO realize we just exponentially increased our sanding, priming and painting surfaces, don't you?"
Yes. But it is going to be worth it.
Back at work for real. Poop. Had a flash this morning of my boss quitting. And another flash of "that might be cool". Who hires a consulant, and then IGNORES said consultant's recommendations? What. Ever.
Which brings me to another thing I have been pondering for awhile now. The whole "s/he's got a lot on his/her plate right now/going through a lot right now/a lot on his/her mind right now" train of thought for excusing people's behavior.
Maybe I'm a cold hearted bitch, maybe I lack compassion. But I feel like I spend so freaking much energy some days keeping myself fit for public consumption, that's the least other people could do. I mean, I will cut slack, believe you me. I am tolerant of people's idiosnycracies. But I work with a bunch of crazy people who don't see that THEY are the ones needing help, and their craziness spills over. I work really really hard to keep mine contained.
So when are we being compassionate to say "aw, he's got a lot going on now", and when is that just letting someone get away with shitty behavior? And what's the responsiblity of the person going thru crisis? To warn people? To take a few days off? To work from home? To be HONEST about what's going on? But then, what if it's personal life carrying over into work? It's none of our business, but it's still affecting us.
No answers. Just stuff I think about.

3 comments so far