Holy CRAP was it hot today.  and HUUUUUUMID.

BUT....got a  lot done.


Yesterday, the side garden bed looked like this:
Today, it looks like this: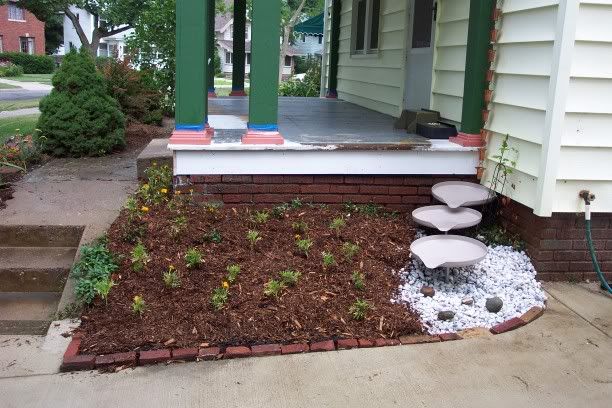 Those poor, poor marigolds.  Husband bought them more than a month ago, and they have been in their flat the whole time.  The poor dears were rootbound in the worst way.  I think they actually sighed when I finally put them in the ground.  Ideally, I'd like to plant a hydrangia here, and flowers around it, but not till next year, I don't think.  I might put in some other flowers to add some variety.
The bricks are "reclaimed" leftovers from the porch wall.....we used all old brick, and had some we couldn't use for the wall, and these are them.  Two of them are stamped with the name of the brickworks, which I think is so cool.  
Finished up just before a big ol' storm hit.  Here's what the rain chain looks like in action:
another angle of the  drainage and garden: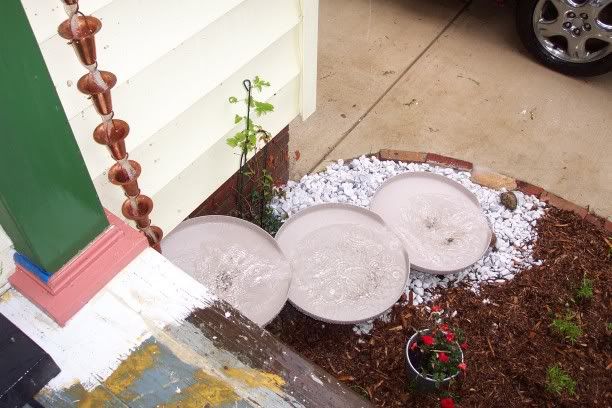 Husband put up the new mailbox.  The old one is below it....we're a managed service point, and the mail carrier needs the barcode on this inside of the old box.  We are hoping he makes the psychic connection and puts a new lable in the new box...
Man.  The closer we get to finishing, the FUGLIER that storm door gets!
Still to do:  
Paint skirt board around porch.
Sand, prime, paint porch floor.
New door.
A little more trim painting...bottom of pillars, and  I THINK the window.
Tomorrow...off to work.  Not going to knock myself out, if I can help it.  New programming seemed to go ok, tech wise, this weekend.  Am hoping not to have much in the way of voice mail when I get in....